Torrey Pines State Natural Reserve
Torrey Pines State Natural Reserve is a wilderness island in an urban sea. This fragile environment is the home of our nation's rarest pine tree – Pinus torreyana or Torrey Pine. Once this tree covered a larger area. It now grows only here and on Santa Rosa Island off the coast near Santa Barbara. The park preserves not only the trees but also one of the last salt marshes and waterfowl refuges in Southern California.
Torrey Pines Cliffs
The reserve features high broken cliffs and deep ravines on headlands overlooking the ocean. Hikers can follow trails through stands of wind-sculpted pines. A picturesque, pueblo-style structure that served as a restaurant when it was built in 1923 houses the visitor center, featuring interpretive displays. Picnicking and camping are prohibited in the reserve. The reserve's rich plant community features wildflowers in the spring and visitors can see the California quail gathered in coveys in the early mornings of fall and winter.
Torrey Pines State Beach can also be reached by trail from the Reserve.
One of the more common complaints in the summer time at Torrey Pines State Natural Reserve is the parking.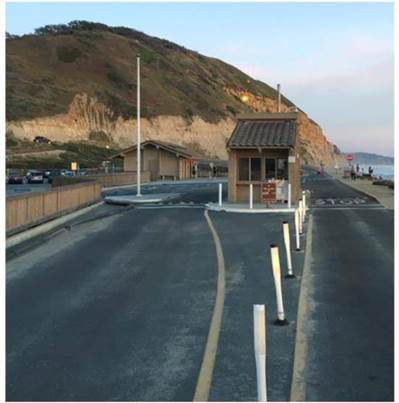 When the South lot fills up, we close the entrance and visitors need to head to North Beach for parking. There is now a flashing light on the top of the kiosk to alert visitors when the gate is closed.
Annual Passes are now sold at the entrance kiosk station operated by our concessionaire, LAZ Parking. The entrance kiosk station is open from 8:00 am to approximately a 1/2 hour before sunset 365 days a year.
Contact Us
Map & Directions